We are extending the Chick-Fil-A Pre-Sale ONE MORE DAY! Please get your orders in tomorrow, Wednesday, November 30. This is a great way to get Chick-Fil-A without driving to a restaurant! $12 gets you a sandwich, bag of chips, cookie, and a water. The pick-up location will be at Zone Out Sports from 11-1 on Saturday.

Due to a mix up on the specials schedule, (no fault of the PTO committee heads who are in charge), I need to let you know that your child will shop in Santa's workshop on the day that they have Mr. Pyle for PE the week we return from Thanksgiving Break. The day on the letter is incorrect. Sorry for the confusion.

We are extending the calendar playground fundraiser until Friday. Reminder, we are accepting all calendars no matter how many days are filled:) Please send the money and calendars to school by this Friday 11/4.

School Picture Day is tomorrow. You can order by sending in the payment tomorrow with the order form or order online by going go
www.strawbridge.net
and enter this code FM391028

Congratulations to Mrs. Douglas' Class for being the first class to have all parents pay their $5.00 to join the PTO. They won first place in the PTO Membership Drive and will be treated to a popsicle party! Mrs. Painter's and Mrs. Johnson's classes tied for second place and will also get a popsicle party. It is not too late for the remaining classes. Any class who reaches 100% membership can still win a party. The deadline is tomorrow 9/22/22. Joining the PTO does not obligate you to volunteer in any way.

Just a reminder that our school is no longer eligible for free breakfasts and lunches. You are welcome to fill out an individual application for free or reduced meals. The applications are online on the PCS website. Meal prices are $1.45 for breakfast and $1.90 for lunch. Meals will be charged to your child's account and you will receive a monthly bill. If you would like milk for your cold lunch, it is .35 cents and is paid in cash. Thank you and have a great evening!

Good evening WTE families, We would like to take this opportunity to invite everyone to Open House on Monday evening from 4-6pm. We ask that you use this time to meet the staff and to take your "Back to School Pictures" utilizing our fun backdrop. To keep the traffic flowing on the first day, please remain in your car as you drop your child off. Staff and 5th grade students will be available to help assist your child to class. Kindergarten teachers will be outside to meet their students. Thank you for your cooperation and we look forward to seeing you soon! Reminder that doors open at 6:50am and school begins at 7:25am.

Parents, Be sure to add WTES school phone number (304-757-6711) and the Putnam County Schools' central office number (304-586-0500) into your contacts on your cell phone. This will prevent a phone call from Putnam County Schools or your school from appearing as a "Spam Risk" number.

Open House will need to be a little different from years past by limiting the amount of people in the building at one time. Therefore, please see the times to attend. Masks are recommended for those that are not vaccinated but not mandatory. Open House will be held on Thursday, 8/19/2021 If your last name begins with....... A-F please come between 4:00-4:30 pm G-L please come between 4:30-5:00 pm M-R please come between 5:00-5:30 pm S-Z please come between 5:30-6:00 pm

For those of you planning ahead...School will be starting in the fall at 7:30am and doors will open at 7:00am. Students will be dismissed to their classrooms at 7:20am from the gym or cafeteria if they arrive before 7:20am.

West Teays is always prepared. Today we practiced the state wide tornado drill.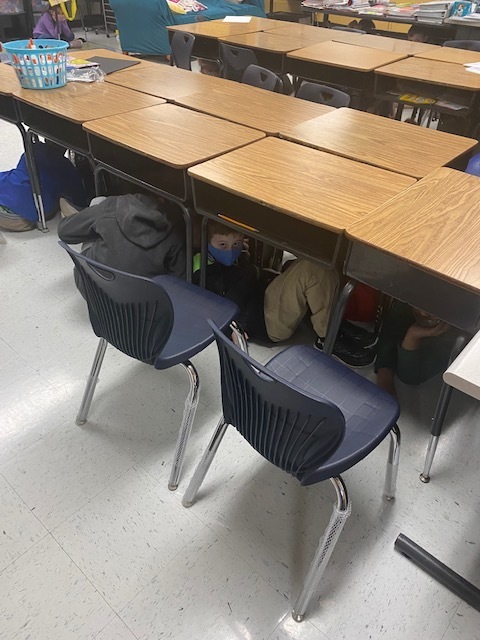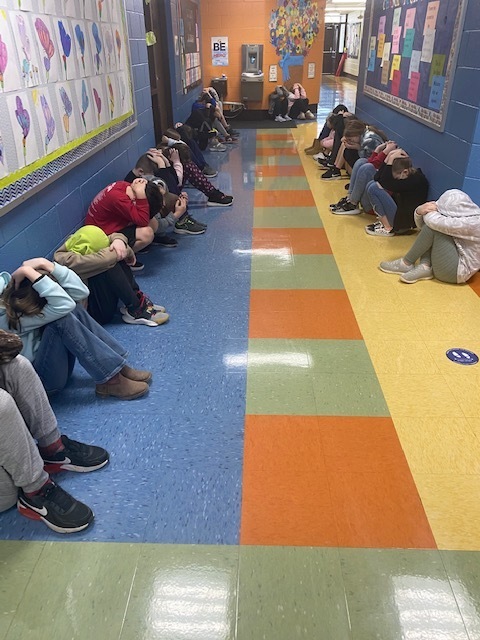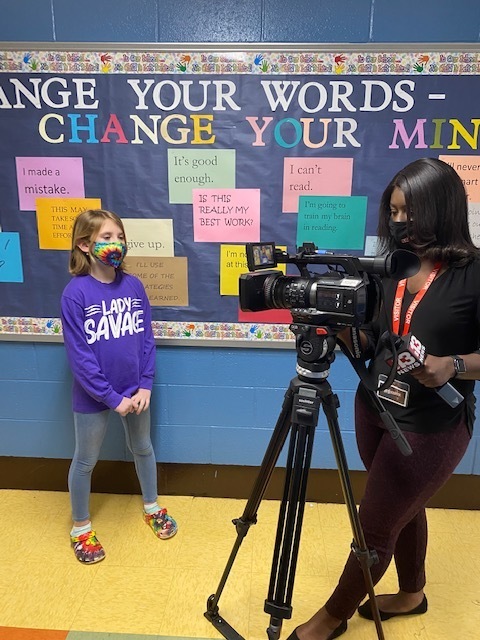 Meals for spring break week....... We will be sending home a bag with your child on Friday, March 26 with breakfasts and lunches for 2-3 days. If you would like to request a 5 Day Box in addition, you need to call the school by Monday, March 22 to place that order. The 5 Day Box pick-up will be on Thursday, March 25 between 11:00am and 12:30pm.

Kindergarten Registration is Tuesday, March 23rd and Thursday, March 25th. Please call the school (304-757-6711) to schedule an appointment and to make arrangements to pick up the registration packet. Due to Covid restrictions, this year will be a drive-through type of registration. You will bring your completed packet back on the registration day and it will be checked for completion while you wait in your car. Feel free to share this information with family or friends that have a child turning 5 years old by July 1, 2021.

Don't forget that tomorrow 2/26/21 is an early out day. We will dismiss at 12:25pm

Change in Schedule........ Friday, February 26, 2021 will be a Faculty Senate Day rescheduled from the original date of February 19, 2021. To enable our schools to hold the February Faculty Senate meeting, students will be dismissed two hours early. WTES will dismiss at 12:25pm.

Please see information regarding the upcoming change window. Families should contact the school to express intent between the following dates: March 8-12, 2021. Requests made outside of this window cannot be guaranteed. The student(s) will begin new instructional delivery model on April 5, 2021.

Putnam County Schools will be operating on a two-hour delay tomorrow, Monday, February 22. Several bus routes will not run tomorrow. The route listing will be located on the PCS website and social media outlets. Students will receive an excused absence if their bus does not run tomorrow. Please note: Students unable to attend school and/or complete assignments the same day due to a bus not running, lack of internet, power, or unforeseen circumstances, will be provided extended time to submit assignments once the internet or power is restored or circumstances warrant additional family support and resources.

Putnam County Schools will be operating on an "On-Site Remote Day" tomorrow, Monday, February 15. This simply means that students will not report to school but will begin remote instruction 2 hours late.

PCS Messages:: Due to current severe weather conditions and extensive power outages in various parts of the county, Putnam County Schools will now be placed on a Full Closure with all schools being closed. There will be no remote instruction and school-based staff will not report. Again, all schools will be closed, no remote instruction and no school-based staff reporting.

PCS Messages:: Putnam County Schools will be operating on an "On-Site Remote Day" tomorrow, Friday, February 12. This simply means that students will not report to school but will begin remote instruction 2 hours late. As a reminder, several areas of Putnam County may still be without power and some students and some teachers may not have access to the internet. In this instance, students will not be counted absent. Have a good evening.