EDIT MAIN
Certified Medical Assistants work in physicians' offices, clinics, or other healthcare facilities. They are responsible for performing physician support services that help ensure medical facilities run smoothly.
Medical Assistant's duties may include verifying patient information, recording medical history, and confirming purpose of visit. They prepare patients for examination by performing preliminary physical tests, taking blood pressure, weight, and temperature and reporting patient history. Certified Medical Assistants may work in clerical, administrative, or clinical capacity.
---
What is the program about?
Putnam Career & Technical Center (PCTC) is pleased to provide allied health education to Putnam and surrounding counties in order to meet the need for the growing number of certified medical assistants. The program consists of 8 months of classroom and clinical instruction.
Courses include:
Medical Terminology
Anatomy & Physiology
Ambulatory Care
Medical Laboratory
Professionalism in Healthcare
Basic & Advanced Clinical Procedures
Medical Administration
Pharmacology
What are the course objectives?
Assess basic physical, emotional, spiritual, and cultural needs of the client
Collect and document data accurately and concisely
Collaborate with other health care team members to facilitate effective client care
Promote and maintain health through incorporating knowledge of growth and development
Promote physical health and well-being by providing care and comfort
Provide care related to the administration of medications
Demonstrate responsibility for continuous personal and professional growth and education
What are the eligibility requirements?
High school diploma or GED/TASC
Good physical and mental health
Be 18 years of age by the first day of class
Applicants must have completed the first of the series of three Hepatitis B immunizations prior to starting the program.
What work skills will be needed for these jobs?
Mathematical
Ability to lift 50 lbs
Team work
Good Reading and Communication skills
Leadership Development
Technical Skills
What is the eligibility for licensure after completing
Students completing the Medical Assisting program may apply to test for the Certified Clinical Medical Assistant. Completion of an application and submission of fees are required for licensure exam registration.
Program Prerequisites
Student must complete at least the first of a series of three Hepatitis B immunizations.
Program Requirements
Students must maintain a passing grade in each course to continue in the program.
Students are required to wear scrub uniforms, clinic shoes, jackets and a watch with a second hand.
For Adult General Admission Requirements, click here.
Simulated Workplace Requirements
This program participates in the Simulated Workplace environment. For details and requirements, click here
Technology Requirements
Students will be provided with any technology instruction, devices and software required.
Student Organization
Students may enroll in the HOSA Future Health Professionals organization.
---
Program Length
675 clock hours (Adult full-time enrollment)
Consisting of five (5) courses
Schedule of Courses
Course Frequency: Each course offered once in each academic year.
Schedule: Monday-Thursday 8:30am – 3:05pm (includes breaks & lunch) **
9101A Medical Assisting I
9102A Medical Assisting II
9103A Medical Assisting III
9104A Medical Assisting IV
9105A Medical Assisting V
*A multi-week externship will occur during the final course of the program. Schedule hours will vary based on the clinical facility work schedule.
Eligibility Requirements for Certification
As determined by the National Healthcareer Association)
Students completing the Medical Assisting program are eligible to apply to test for the Certified Clinical Medical Assistant (CCMA) by registering with the National Healthcareer Association. To obtain specific information, visit the National Healthcareer Association website at http://nhanow.com/certifications. Application and submission of fees are required for certification exam registration.
---
Course Descriptions
9101A Medical Assisting I

9102A Medical Assisting II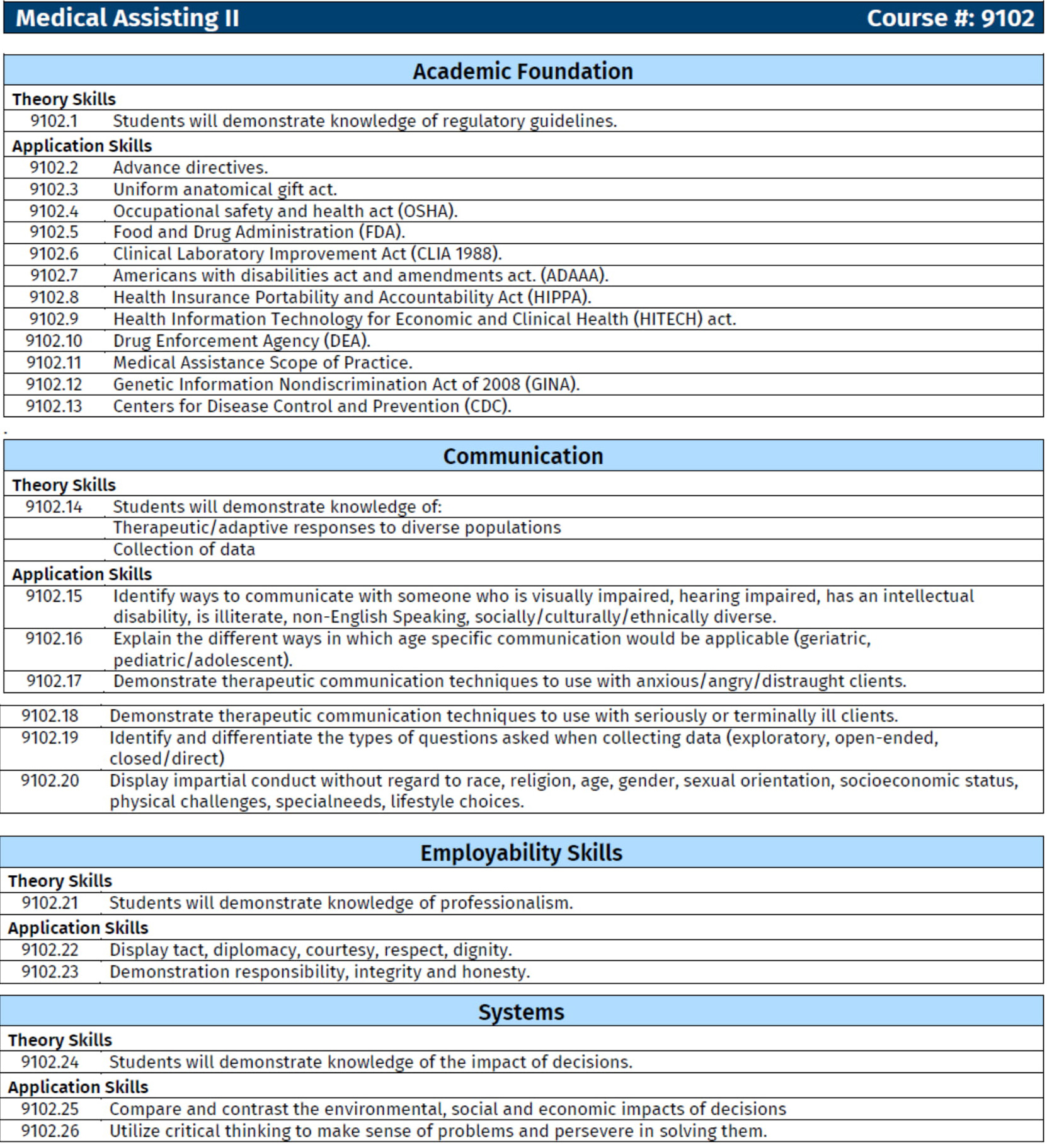 9103A Medical Assisting III
9104A Medical Assisting IV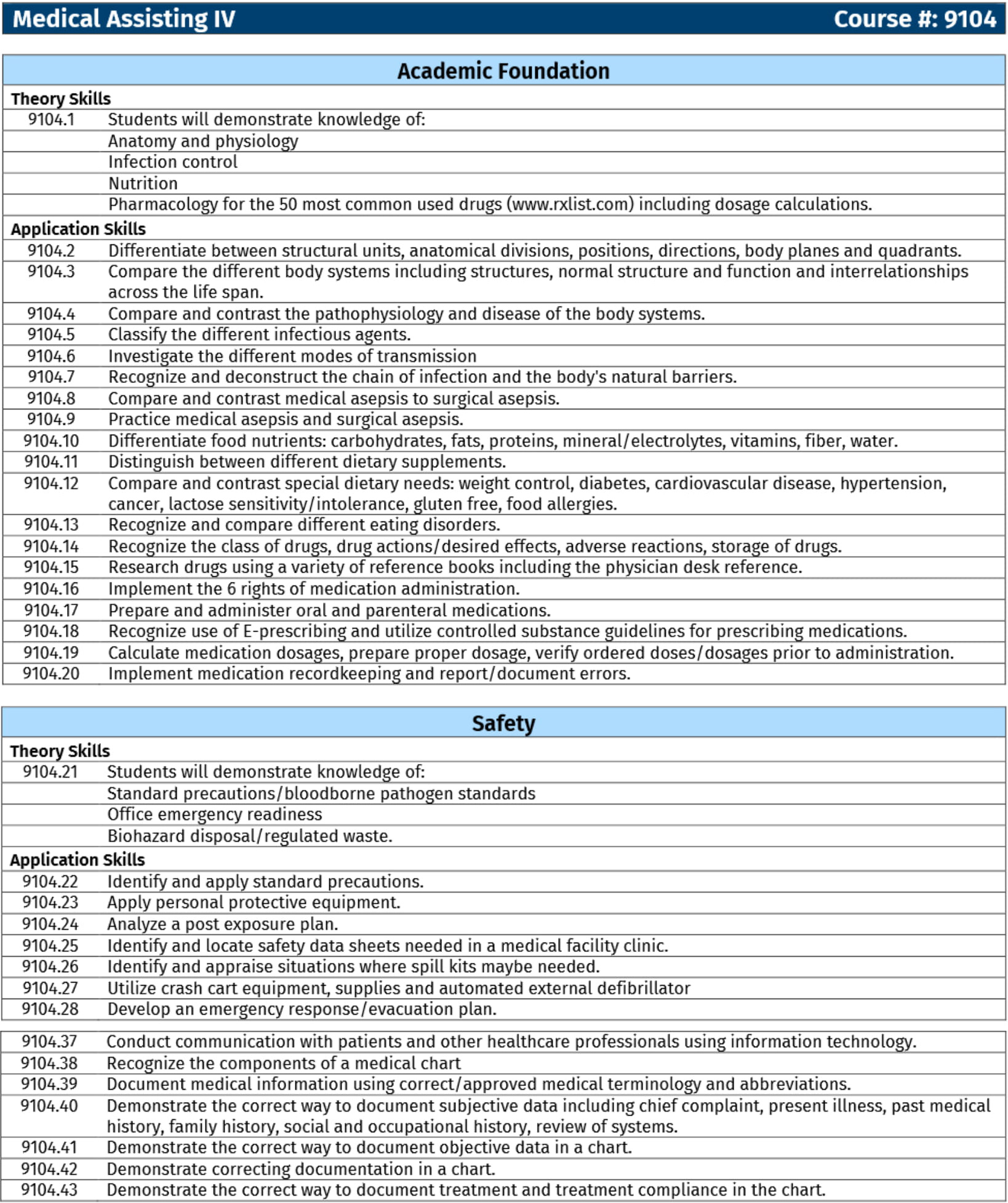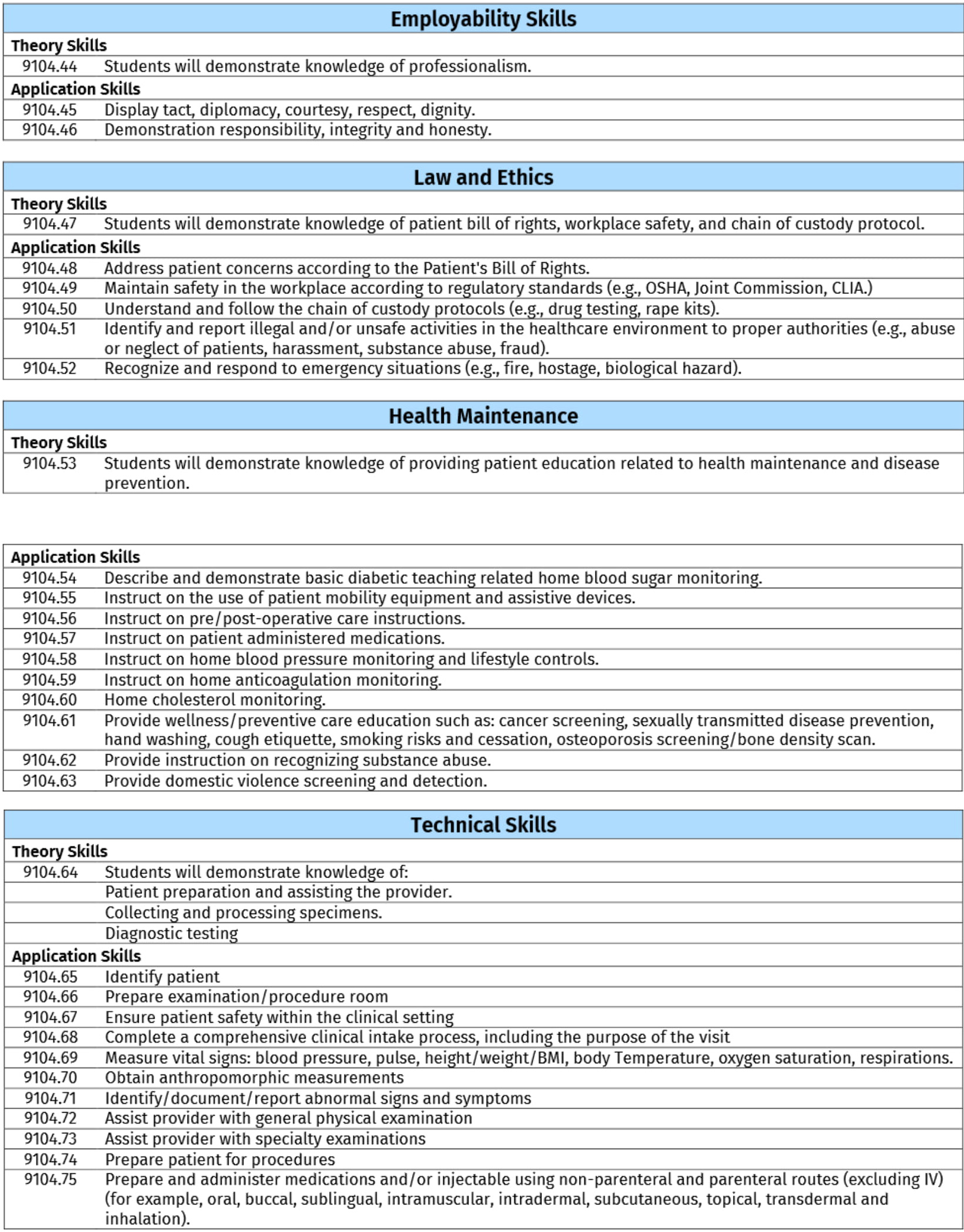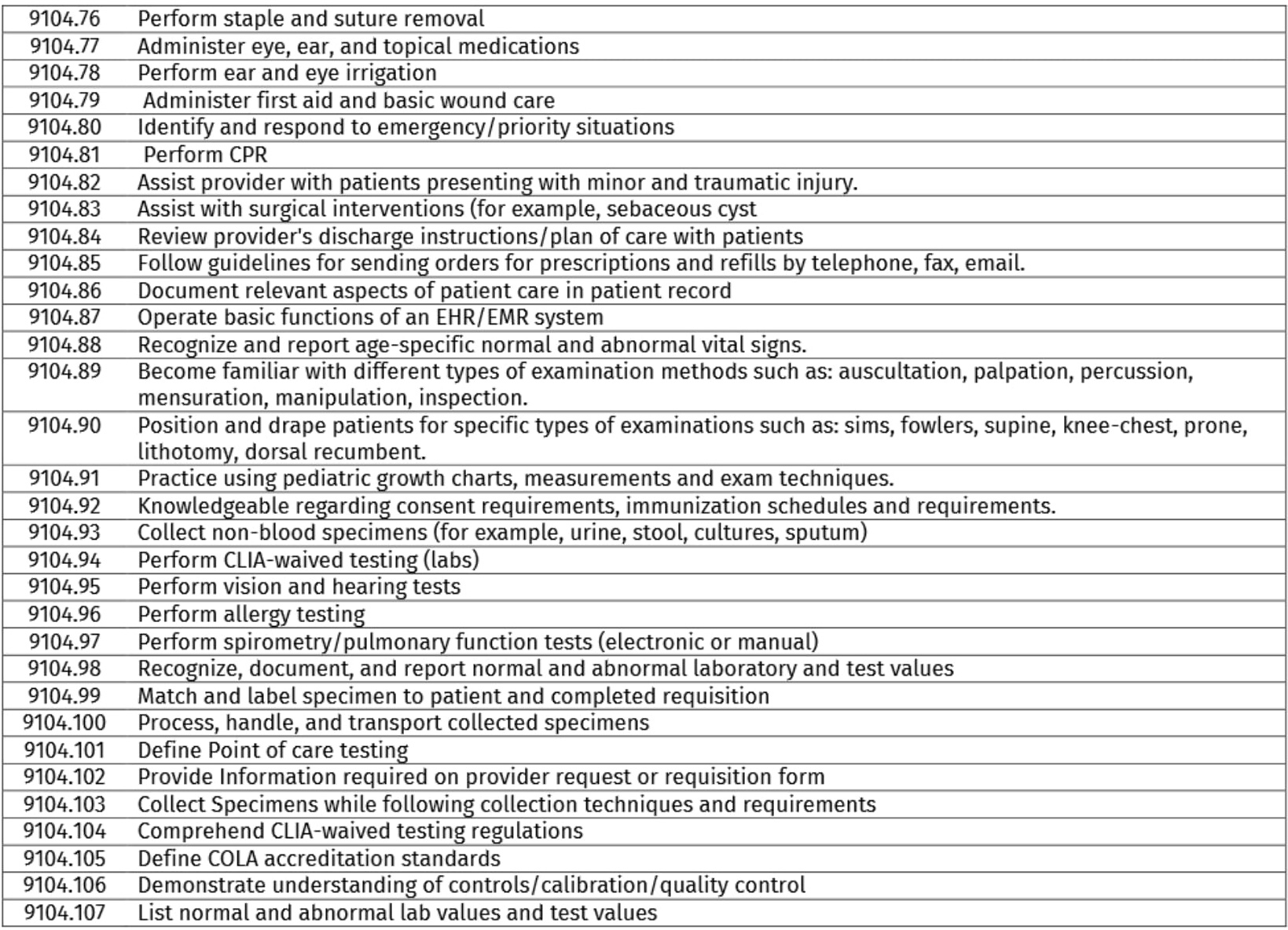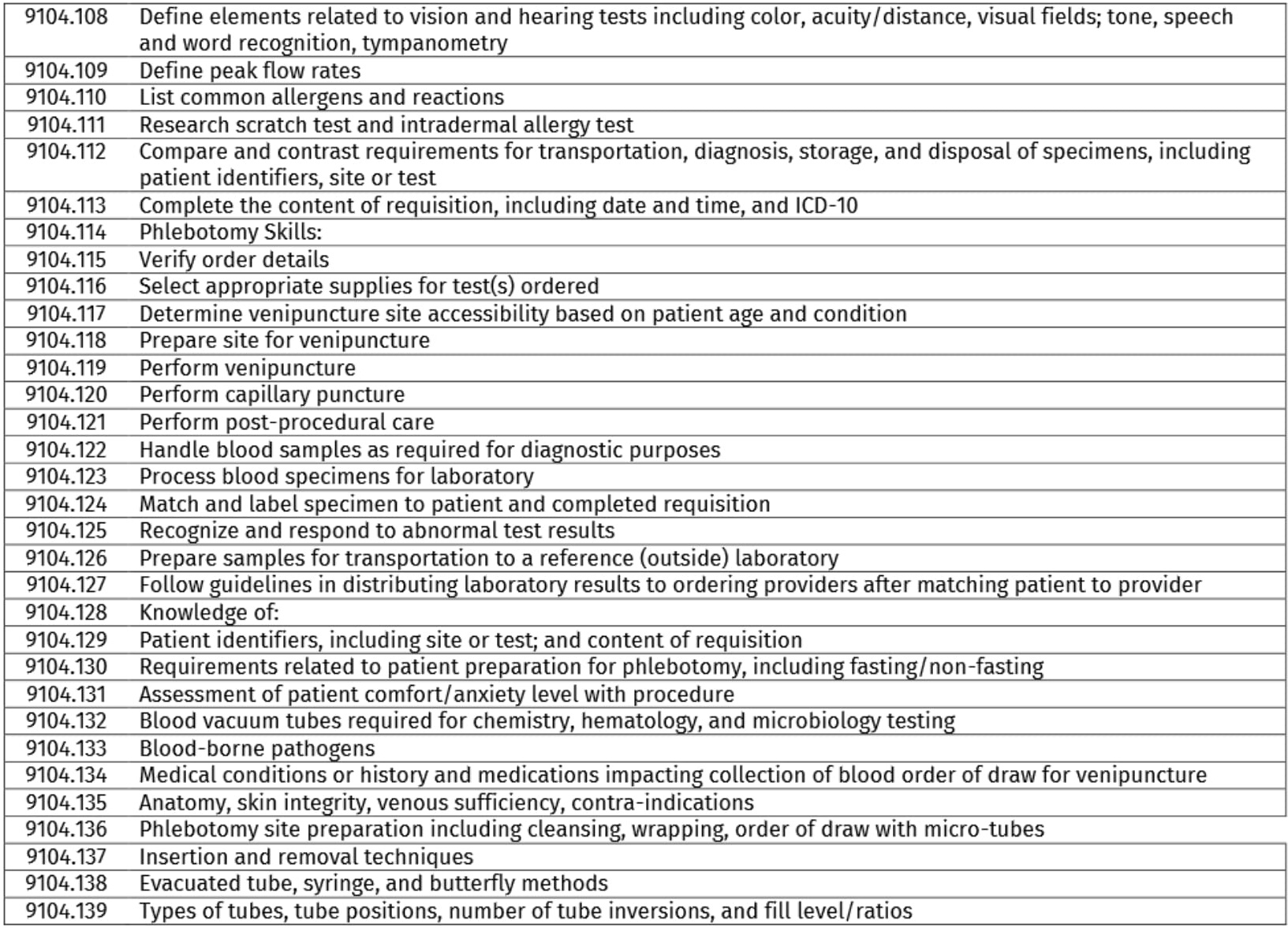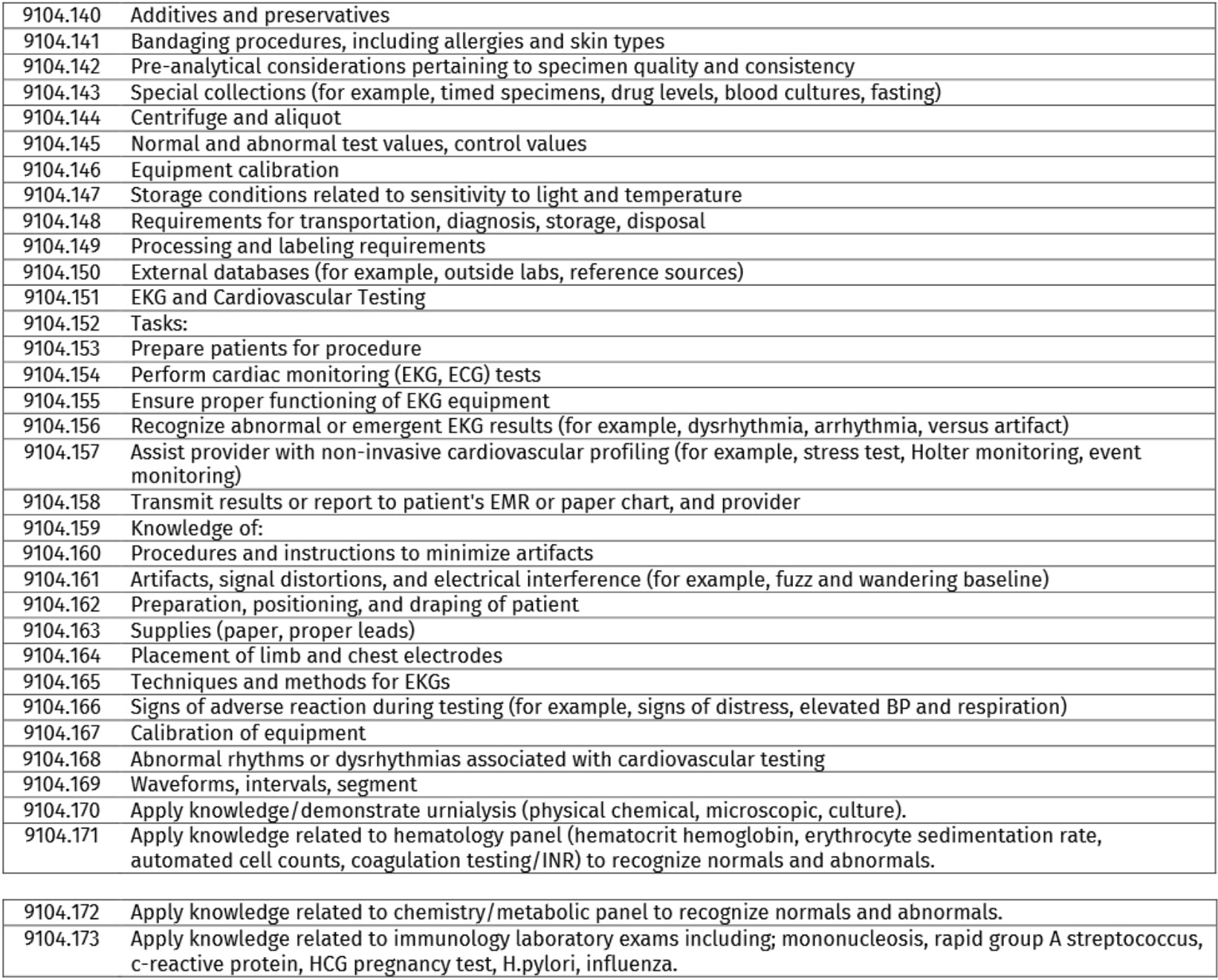 9105A Medical Assisting V