Save the Date! Putnam County Schools Title I Program will host their annual Back to School Blast Friday, August 13, at Putnam Career & Technical Center from 10 am to 1 pm! 🎒 The B2SB will be a drive-through event. Families and students will remain in their vehicles, and backpacks will be distributed to them directly. This event is for Putnam County students only. Additionally, please note that students will need to be present to receive their backpacks and supplies. ☎️ For any questions, please call Putnam County Schools at 304.586.0500 ext. 1122 or ext. 1133. #PutnamProud #B2SPCS21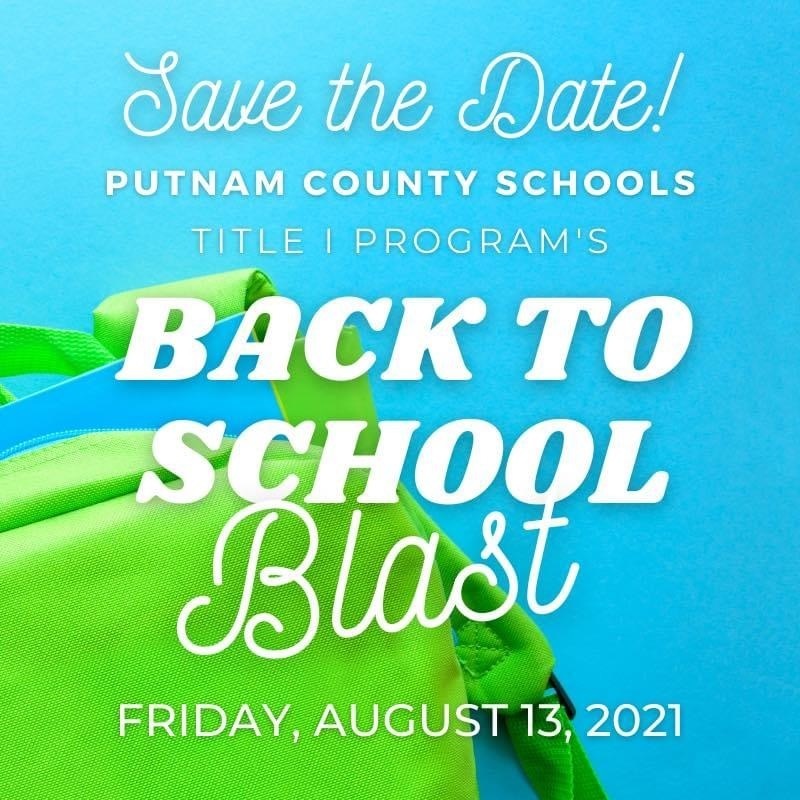 All teacher's supply lists have been upload to our webpage. You can find them in the NEWS section, as well as in the FOR PARENTS section under DOCUMENTS. If you are viewing on a mobile device, you will want to choose the file in the Documents tab. This allows it to resize for easy viewing!
Bus 2907 will be running late and today you will be picked up by 2601!
Students are being dismissed at12:15 today for faculty senate. Thank you!
Kindergarten registration will be on March 22, 2021. More information will be coming about Packet Pick Ups and sign ups! Please let any neighbors know of the upcoming date. If you would like to sign your child up for PreK, please begin with the online regustration at the Putnam County Schoos website. If you need assistance, Please let us know! To view the update, click the link below:
http://putnam.schoology.com/school/26047941
Friday, February 26, 2021 will be a Faculty Senate Day rescheduled from the original date of February 19, 2021. To enable our schools to hold the February Faculty Senate meeting, students will be dismissed two hours early. Pursuant to W.Va. Code §18-5A-5, the school calendar must provide to each faculty senate a two-hour block of time for a faculty senate meeting on a day scheduled for the opening of school prior to the beginning of the instructional term and on a day scheduled for the closing of school before the end of the employment term. In addition to the opening and closing of school, faculty senate meetings are to be held during the months of October, December, February, and April, for a total of six two-hour meetings.
Families will be instructed by school principal they can contact the school to express intent between the following dates: March 8-12, 2021. Requests made outside of this window cannot be guaranteed. Change will begin on April 5
Friday 2/26 Turkey Roast/Gravy Mashed Potatoes Green Beans Rolls
Thursday 2/25 Pepperoni Rolls Sliced peaches Vanilla Ice Cream
Wednesday 2/24 Salisbury Steaks Mashed Potatoes Green Beans Friday 2/26
Tuesday 2/23 Breaded Chicken Sandwich Quick Baked Potatoes Peaches
Monday 2/22 Breaded Chicken Strips Potato Rounds Steamed Peas Orange Wedges
Good Evening Friends, Please be very careful in the morning! The parking lot is solid ice!! Rest Well! Martica
For school closing protocols please check the For Parents folder in the document section.
Valentine exchange will be Friday, Feb. 12. Please have your child bring in their cards by Wednesday, Feb. 10
Spirit Sticks are on sale this week for $1 each. Please put money in an envelope with your child's name and teacher name on it and have your child give it to their teacher each morning. Spirit sticks will be given out by the teachers by the end of the day.

FREE MEALS AVAILABLE FOR ALL PCS STUDENTS: This meal service is free of charge and available for ALL students, whether or not enrolled in the meal benefit program. Therefore, we encourage all families to take advantage of this opportunity. Daily pick-up times for meals are from 11:00 am - 12:30 pm at each school. Families will pick-up meals at their students' home school location, curbside while remaining in the vehicle. If transportation is a problem, families may contact their home school to request meal delivery assistance.
We will be doing a packet pick up from 11-5:30. If this time doesn't work for you or you need transportation please call us! If you will be picking up a lunch call by 9:30 to reserve. The 5 day cold lunches are an option if you prefer. They are picked up at 12:30. Delivery is available for all with transportation issues! Pick up will be Monday, Dec. 7 from 11-5:30. Please return all work and Entertainment Books!